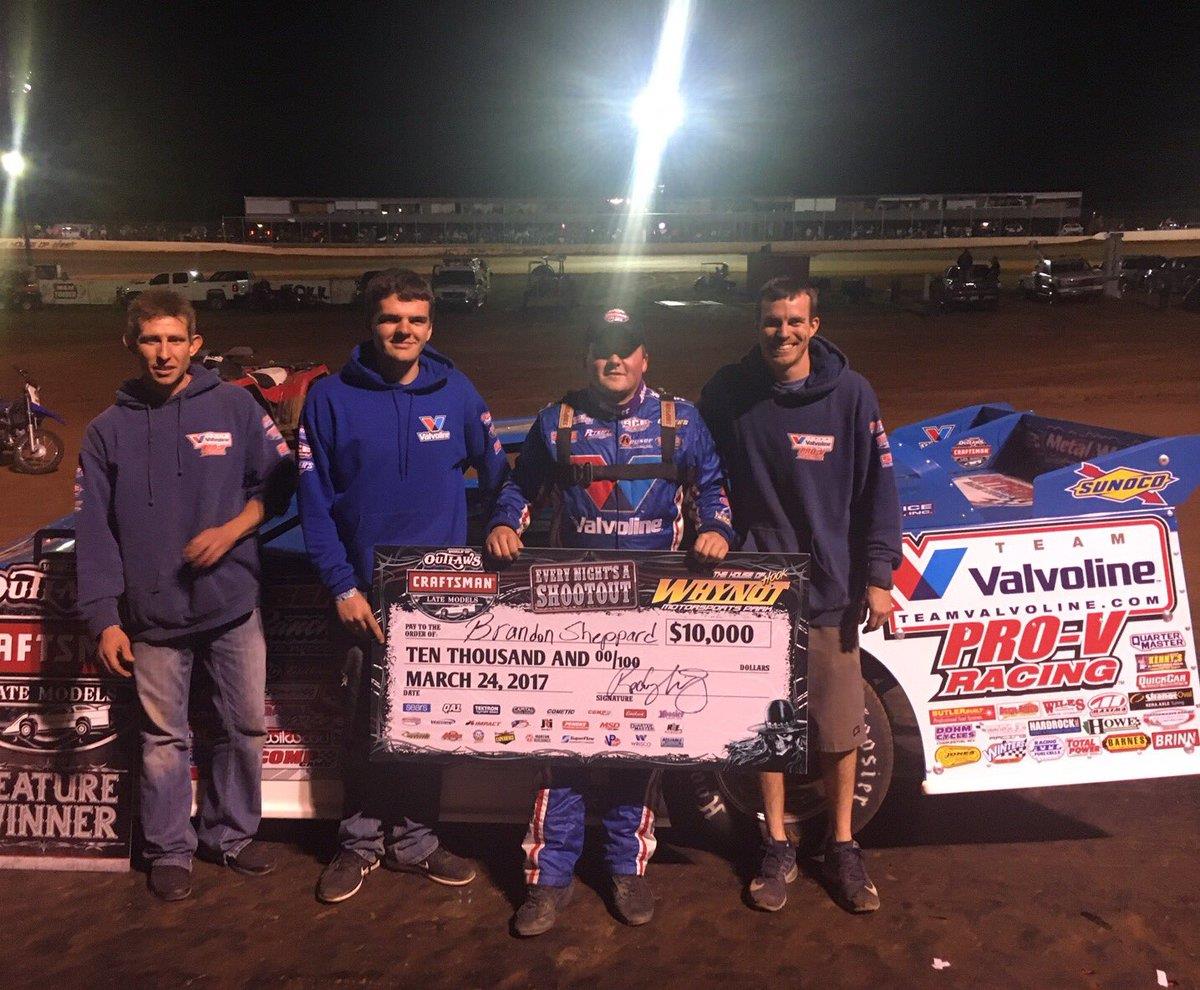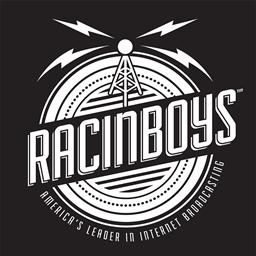 ---
Sheppard claims WOO Late Model prize at Whynot
By Kayla May, World of Outlaws Craftsman Late Model Series PR (Meridian, MS) -- The World of Outlaws Craftsman® Late Model Series visited Whynot M otorsports Park in Meridian, MS for the first time ever on March 24. A total of 45 Late Models appeared on the scene to test their luck and their skill at the House of Hook but it was ultimately Brandon Sheppard who took the checkers in the 50-lap feature and claimed his first Series win of the 2017 season.
Sheppard showed how consistent he and his Rocket crew will be this season as he placed fourth in qualifying and won his heat. Sheppard also struck a little bit of luck during the redraw as he pulled out wrench number one from the Craftsman tool box.
"I got to thank Mark [Richards] and all of the guys at Rocket for making this happen for me," said Sheppard. "This is an awesome team and I am really excited for the rest of the year."
Yet, Sheppard didn't have an easy stroll to the lead as Billy Moyer Sr. started second in the Feature, shot to the lead early and held on to that position for 22 laps. Sheppard and Moyer ran door-to-door but with the help of some lap traffic Sheppard pulled away.
Timothy Culp also used lap traffic to his advantage as he made his way from a sixth place start to compete with Moyer for second on lap 22 and then battled with Sheppard for first on lap 24. It was a juggling match between Sheppard and Culp until the last lap.
"Rodney gave us a great racetrack and shoot I am just tickled to death to be standing here right now," said Culp. "To compete with these guys is just awesome. I got stuck on the bottom for a bit and I tried to roll onto the middle but if it wasn't for those lap cars I think we might have had a little bit different of an outcome at the end."
Chris Madden rounded out the podium as he found his way from a tenth place start to finish third in the Feature. In Victory Lane, Series Announcer Rick Eshelman reminded Madden that he is racking up the "points, points, points" this Season and Madden laughed and said we want to "win, win, win".
The Feature wasn't the only part of the night that had fans on their feet. The 3/10-mile 80-foot-wide track stayed true to its reputation of being really racey top to bottom all night long. To start the night out, Donald Bradsher put his name on the map as he claimed his first career Quick Time and almost defeated the current track record. Bradsher landed a 12.542 lap time and the Whynot Motorsports Park track record is a 12.510.
The Series is now headed to Billy Moyer Jr's stomping grounds of Arkansas to race at I-30 Speedway on March 25.
World of Outlaws Craftsman Late Model Series Statistical Report; Whynot Motorsports Park, March 24, 2017
Craftsman Club Feature: 1. 1- Brandon Sheppard[1]; 2. C8- Timothy Culp[6]; 3. 44- Chris Madden[10]; 4. 21- Billy Moyer[2]; 5. 18- Eric Wells[11]; 6. 91- Tyler Erb[5]; 7. 157- Mike Marlar[3]; 8. 18s- Jack Sullivan[9]; 9. 1*- Chub Frank[12] 10. 7- Rick Eckert[16]; 11. 99j- Frank Heckenast Jr[4]; 12. 3s- Brian Shirley[7]; 13. 21j- Billy Moyer Jr[14]; 14. 14M- Morgan Bagley[17]; 15. 1C- Chad Thrash[22]; 16. 18c - Chase Junghans[19]; 17. 9- Devin Moran[15]; 18. F5- Garrett Alberson[18]; 19. 2c- Joey Coulter[13]; 20. 96- Tanner English[20]; 21. 93- Donald Bradsher[8]; 22. R5- Chandler Petty[21]; 23. 25- Shane Clanton[23]; 24. 4-Ds- Chad Hollenbeck[24]
Last Chance Showdown 1: 1. 14M- Morgan Bagley[2]; 2. 18c- Chase Junghans[3]; 3. R5- Chandler Petty[4]; 4. 25- Shane Clanton[9]; 5. 1R- BJ Robinson[6]; 6. 86- Brian Rickman[5]; 7. 86B- Kyle Beard[7]; 8. XL4- Luke Scott[10]; 9. 51- Dean Carpenter[12]; 10. 17- Billy Franklin[1]; 11.56- Jonathan Rowan[8]; 12. 77- Gavin Landers[11]; DNS. 7K- Shay Knight; DNS. 25M- Justin McRee; DNS. A8- Austin Arnold
Last Chance Showdown 2: 1. F5- Garrett Alberson[1]; 2. 96- Tanner English[2]; 3. 1C- Chad Thrash[11]; 4. 14z- Zach McMillan[3]; 5. 4-Ds- Chad Hollenbeck[4]; 6. 10- Michael Arnold; 7. 44W- Brett White[7]; 8. 86R- Rick Rickman[12]; 9. 27- Nick Thrash[11]; 10. 4- Brian Ligon[5]; 11. 995- Dwight Falcon Jr[8]; 12. G4- Shelby Sheedy[10]; 13. 6r-Robbie Stuart[14]; DNS. 1T- Terry Mosley
Heat 1: 1. C8- Timothy Culp[4]; 2. 93- Donald Bradsher[1]; 3. 18s- Jack Sullivan[6]; 4. 2c- Joey Coulter[2]; 5. 17- Billy Franklin[10]; 6. 18c- Chase Junghans[5]; 7.86-Brian Rickman[7]; 8.86B- Kyle Beard[3]; 9. 25- Shane Clanton[8]; 10. 77- Gavin Landers[9]; 11. 7K- Shay Knight[12]; 12. A8- Austin Arnold[11]
Heat 2: 1. 1- Brandon Sheppard[2]; 2. 91- Tyler Erb[1]; 3. 44- Chris Madden[4]; 4. 21j- Billy Moyer Jr[3]; 5. 14M- Morgan Bagley[7]; 6. R5- Chandler Petty[5]; 7. 1R- BJ Robinson[6]; 8. 56-Jonathan Rowan[9]; 9. XL4- Luke Scott[8]; 10. 51-Dean Carpenter[10]; [DNS] 25M- Justin McRee
Heat 3: 1. 21- Billy Moyer[2]; 2. 3s- Brian Shirley[3]; 3. 18- Eric Wells[4]; 4. 9- Devin Moran[1]; 5. F5- Garrett Alberson[5]; 6. 14z- Zach McMillan[9]; 7. 4- Brian Ligon[6]; 8. 44W- Brett White[8]; 9. 10- Michael Arnold[7]; 10. 27 -Nick Thrash[10]; 11. 1T- Terry Mosley[11]
Heat 4: 1. 157- Mike Marlar[1]; 2. 99j- Frank Heckenast Jr[5]; 3. 1*- Chub Frank[3]; 4. 7- Rick Eckert[2]; 5. 96- Tanner English[4]; 6. 4-Ds- Chad Hollenbeck[6]; 7. 1C- Chad Thrash[7]; 8. 995- Dwight Falcon Jr[10]; 9.G4-Shelby Sheedy[11]; 10. 86R- Rick Rickman[8]; 11. 6r- Robbie Stuart[9]
Qualifying Group A: 1. 93- Donald Bradsher, 12.542; 2. 9- Tyler Erb, 12.593; 3. 2c- Joey Coulter, 12.660; 4. 1- Brandon Sheppard, 12.683; 5. 86B- Kyle Beard, 12.709; 6. 21j- Billy Moyer Jr, 12.745; 7. C8- Timothy Culp, 12.796; 8. 44- Chris Madden, 12.871; 9. 18c- Chase Junghans, 12.944; 10. R5- Chandler Petty, 13.014; 11. 18s-Jack Sullivan, 13.015; 12. 1R- BJ Robinson, 13.027; 13. 86- Brian Rickman, 13.04; 14. 14M- Morgan Bagley, 13.058; 15. 25- Shane Clanton, 13.085; 16. XL4- Luke Scott, 13.105; 17. 77- Gavin Landers, 13.168; 18. 56- Jonathan Rowan, 13.349; 19. 17- Billy Franklin, 13.437; 20. 51- Dean Carpenter, 13.503;21. A8- Austin Arnold, 13.528; 22. 25M- Justin McRee, 13.687; 23. 7K- Shay Knight, 13.793
Qualifying Group B: 1. 9- Devin Moran, 12.680; 2. 157- Mike Marlar, 12.686; 3. 21- Billy Moyer, 12.711; 4. 7- Rick Eckert, 12.756; 5. 3s- Brian Shirley, 12.818; 6. 1*- Chub Frank, 12.936; 7. 18- Eric Wells, 12.976; 8. 96- Tanner English, 13.019; 9. F5- Garrett Alberson, 13.022; 10. 99j- Frank Heckenast Jr, 13.043; 11. 4- Brian Ligon, 13.098; 12. 4-Ds- Chad Hollenbeck, 13.215; 13. 10- Michael Arnold, 13.238; 14. 1C- Chad Thrash, 13.327; 15. 44W- Brett White, 13.329; 16. 86R- Rick Rickman, 13.367; 17. 14z- Zach McMillan, 13.371; 18. 6r- Robbie Stuart, 13.414; 19. 27- Nick Thrash, 13.538; 20. 995- Dwight Falcon Jr, 13.584; 21. 1T- Jerry Mosley, 14.249; 22. G4- Shelby Sheedy, 14.271
CONTINGENCY WINNERS: Craftsman/Sears ($200 Cash): Brandon Sheppard, Eric Wells, Tyler Erb, Chub Frank, Rick Eckert,; Craftsman/Sears ($100 Cash): Timothy Culp; Comp Cams ($50 product certificate): Brandon Sheppard; MSD Ignition ($50 Cash): Brandon Sheppard; Quarter Master ($100 Product Certificate): Chris Madden; Wrisco (Three Sheets of aluminum): Brandon Sheppard; Penske Racing Shocks ($50 Product Certificate): Chris Madden ; JE Pistons ($50 Cash): Eric Wells; VP Racing Fuels ($50 Cash): Chub Frank; Edelbrock ($50 Cash): Chub Frank; Comp Cams ($50 Cash): Billy Moyer Jr.; Cometic ($50 Cash): Billy Moyer Jr. ; JRI Shocks ($50 Cash): Billy Moyer Jr.; Superflow Dyno's ($50 Cash): Joey Coulter; Quartermaster ($25 Product Certificate): Devin Moran; JE Pistons (One set of piston rings): Chase Junghans; Quartermaster ($50 Product Certificate): Joey Coulter; Arizona Sport Shirts ($100 Product Certificate): Donald Bradsher; JE Pistons (One set of piston rings): Donald Bradsher; MSD Ignition ($25 Cash): Chad Hollenbeck; QA-1 ($50 Cash): Tyler Erb; Rookie Bonus: Devin Moran; Bonus Bucks: Timothy Culp
SEASON WINNERS:
Rick Eckert- 1 (Screven Motorsports Complex on Feb. 17)
Chris Madden- 1 (Screven Motorsports Complex on Feb. 18)
Shane Clanton- 1 (Volusia Speedway Park on Feb. 24)
Don O'Neal- 1 (Volusia Speedway Park on Feb. 25)
Brandon Sheppard- 1 (Whynot Motorsports Park on March 24)
Unofficial World of Outlaws Craftsman® Late Model Series Championship Standings
Pos. Car # Driver Points Trail By
1 1 Brandon Sheppard 630 0
2 7 Rick Eckert 606 24
3 44 Chris Madden 596 34
4 91 Tyler Erb 592 38
5 3S Brian Shirley 588 42
6 18 Eric Wells 580 50
7 1* Chub Frank 576 54
8 99JR Frank Heckenast Jr. 574 56
9 21JR Billy Moyer Jr. 562 68
10 9 Devin Moran 550 80
http://www.woolms.com/news/race-reports/267-2017-race-reports/2095-sheppard-wins-at-whynot
---
Submitted By: Kirk Elliott
Back to News