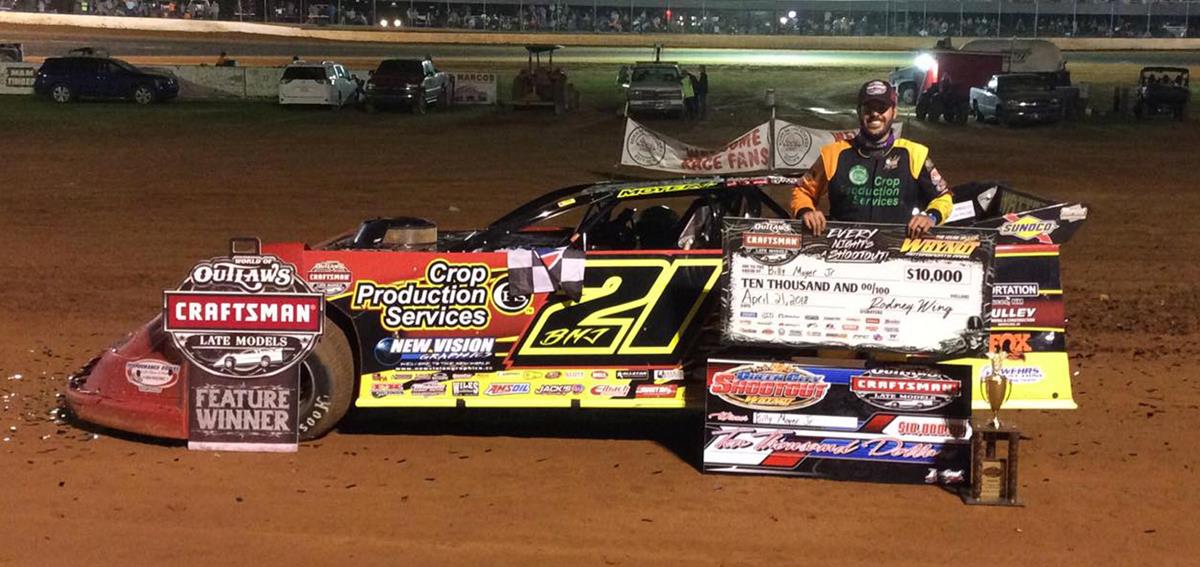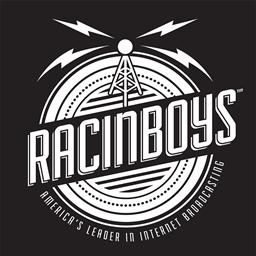 ---
Billy Moyer Jr. Wins at Whynot Motorsports Park
By WOO Late Model Series PR (Meridian, MS) -- The "House of Hook" at Whynot Motorsports Park lived up to its name on Saturday evening for the finale of the Queen City Shootout. The World of Outlaws Craftsman® Late Model Series' 50 lap feature event saw multiple lanes of hooked-up racing. When the checkered flag waved for the final time of the evening, it was Billy Moyer Jr. who was the best of the field claiming his first World of Outlaws win of the 2018 season and third all-time Series win.
Moyer Jr. was overwhelmed with emotion as he climbed out of his car in Victory Lane. He explained to the crowd that at 5 p.m. he received a call saying that his daughter Hallie Rae Moyer (born on March 8, 2018) is not doing well. Receiving the call just one hour before the World of Outlaws were scheduled to hit the track for hot laps, Moyer Jr. explained he felt committed to finishing the night.
"This racing doesn't mean anything. Right now, I'm thinking about my daughter," said Moyer Jr. "I'm scatterbrained right now. I got a call at 5 o'clock and my mind is so far in left field I don't really care about this race right now. I just want to get home to her. Man, they were with me here tonight. I want to make a living and to win, but I need to get back to Arkansas as quick as I can."
The Batesville, AR driver placed second in Group A Qualifying, won his heat race, and drew the outside pole position for the Craftsman Club Feature. Moyer Jr. commanded the lead on the first lap, only to hand over the top spot once on lap 18 to Mississippi driver Brian Rickman. Chris Madden and Shane Clanton also challenged Moyer Jr. for the lead position but were unable to complete the pass. When the checkers fell, it was a photo finish with only 0.0645 separating Moyer Jr. from Clanton.
"Chris was doing all he could to win the race," said Clanton. "That's what we were just saying, 'we're here to win the race not to get second' and he did all he could to get by him. Moyer went to block him and it gave me the opportunity to get in the bottom and I hit Chris a little bit but it's alright, we were going for the win."
"I guess it don't look like we can do no better than third. You know we just keep going for the win there," said Madden. "We come to win the races, not to run second. We took a shot at him there and if he didn't move up on me there maybe I could've finished the pass. It just kind of killed my momentum and let the hole open for Shane to get back into second.
"Overall, we had a great car all weekend. We started 12th tonight and made it all the way up there to battle for the lead, at least for a little while. I think we can take this momentum here in our new ride and build on it and maybe it will play out good for us at the end of the year."
The World of Outlaws Craftsman Late Model Series returns to action next Thursday at Smoky Mountain Speedway for a night of practice followed by the doubleheader weekend, The Tennessee Tipoff on Friday and Saturday, April 27-28.
Craftsman Club Feature (50 Laps): 1. 21jr-Billy Moyer [2][$10,000]; 2. 25-Shane Clanton [4][$5,000]; 3. 44-Chris Madden [12][$3,000]; 4. 157-Mike Marlar [24][$2,500]; 5. 1-Brandon Sheppard [11][$2,000]; 6. 90-Brian Rickman [1][$1,700]; 7. 21-Billy Moyer [8][$1,400]; 8. 116-Brandon Overton [16][$1,300]; 9. 14m-Morgan Bagley [6][$1,200]; 10. 14z-Zack McMillan [10][$1,100]; 11. 97-Cade Dillard [22][$1,050]; 12. 91-Tyler Erb [7][$1,000]; 13. 7-Rick Eckert [15][$950]; 14. B1-Brent Larson [19][$900]; 15. 1c-Chad Thrash [20][$850]; 16. 99B-Boom Briggs [27][$110]; 17. 18c-Chase Junghans [25][$110]; 18. 18s-Jack Sullivan [18][$750]; 19. 86-Rick Rickman [5][$730]; 20. 54-David Breazeale [9][$700]; 21. CJ1-Rusty Schlenk [14][$700]; 22. 9-Devin Moran [23][$700]; 23. 22-Chris Ferguson [13][$700]; 24. 21xxx-Neil Baggett [3][$700]; 25. C8-Timothy Culp [17][$700]; 26. 6-Blake Spencer [28][$110]; 27. 1x-Chub Frank [26][$110]; 28. 4-Michael Arnold [21][$700]
Hard Charger: 157-Mike Marlar[+20]
Qualifying Flight-A: 1. 21xxx-Neil Baggett, 12.271; 2. 21jr-Billy Moyer, 12.642; 3. 54-David Breazeale, 12.702; 4. 14z-Zack McMillan, 12.751; 5. 14m-Morgan Bagley, 12.754; 6. 21-Billy Moyer, 12.759; 7. 4-Michael Arnold, 12.764; 8. 18c-Chase Junghans, 12.767; 9. B1-Brent Larson, 12.787; 10. 777-Jared Landers, 12.788; 11. 99B-Boom Briggs, 12.825; 12. 51m-Joey Moriarty, 12.863; 13. 10-Spencer Hughes, 12.918; 14. CJ1-Rusty Schlenk, 12.942; 15. 22-Chris Ferguson, 12.954; 16. 6r-Robbie Stuart, 13.109; 17. 17-Billy Franklin, 13.146; 18. 9-Devin Moran, 13.189; 19. C8-Timothy Culp, 13.855; DNS. 15-Chris Smith, NT
Qualifying Flight-B: 1. 90-Brian Rickman, 12.271; 2. 25-Shane Clanton, 12.366; 3. 86-Rick Rickman, 12.462; 4. 44-Chris Madden, 12.541; 5. 1-Brandon Sheppard, 12.572; 6. 91-Tyler Erb, 12.644; 7. 97-Cade Dillard, 12.691; 8. 5-Jon Mitchell, 12.804; 9. 7-Rick Eckert, 12.85; 10. 1c-Chad Thrash, 12.855; 11. 3-Shay Knight, 12.88; 12. 116-Brandon Overton, 12.992; 13. 18s-Jack Sullivan, 12.996; 14. 157-Mike Marlar, 13.051; 15. 1x-Chub Frank, 13.086; 16. 1b-BJ Robinson, 13.146; 17. 94-Austin Rettig, 13.225; 18. 44h-Dave Hess, 13.33; 19. 6-Blake Spencer, NT
COMPLETE RESULTS: http://woolms.com/results/2018-results/2370-04-21-18-whynot-motorsports-park
---
Submitted By: Kirk Elliott
Back to News